USA Highway 1 Motorcycle Tour
California Dreaming - the 11 day KeaRider motorcycle tour through California and Nevada will take you to the most beautiful places of the American West. You will ride along the famous Highway 1 from Los Angeles to San Francisco and discover the beautiful region of Big Sur. After a visit to San Francisco and the exciting ride on the Golden Gate Bridge you will discover the wine-growing areas in northern California and the artists town Mendocino before your road trip leaves California and heads south through the Nevada Desert. In Nevada, visit the gambling mecca of Las Vegas and discover the old Wild West in the ghost town of Calico with their closed down silver mine. Your motorcycle tour through California and Nevada ends in Los Angeles.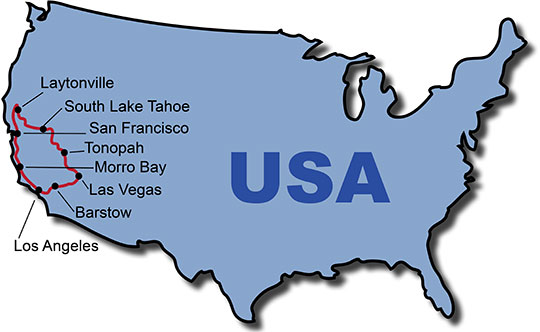 Route:
Los Angeles > Morro Bay > San Francisco > Laytonville > South Lake Tahoe > Tonopah > Las Vegas > Barstow > Los Angeles

Day 1
Los Angeles > Morro Bay
After an individual journey, tour participants meet in Los Angeles and head north on the Highway 1. You will comfortably cruise through Santa Monica, Malibu and Santa Barbara to the Danish influenced town of Solvang, and through green hills continue on to Morro Bay.
Day 2
Morro Bay > San Francisco
Today, take the Highway 1 along the beautiful coastline of Big Sur over to Monterey and Half Moon Bay to San Francisco.
Day 3
San Francisco
You can see San Francisco in your own free time. For example you can visit the famous Alcatraz or explore beautiful neighborhoods such as Chinatown and Fisherman's Wharf.
Day 4
San Francisco > Laytonville
You will leave San Francisco and head north over the Golden Gate Bridge. Via the coastal village of Mendocino, you continue on to Laytonville.
Day 5
Laytonville > South Lake Tahoe
The beautiful clear lake in the Mendocino national forest awaits you this morning, before you ride through Sacramento and the gold mining town Placerville to the Eldorado National Forest and further to Lake Tahoe.
Day 6
South Lake Tahoe
We are riding through the Toiyabe National Forest toward Genoa, the oldest permanent settlement in Nevada and continue north to Carson City and Virginia City belonging to the gold rush time.
Day 7
South Lake Tahoe > Tonopah
You will get a Wild West feeling when you visit the many old ghost towns and gold mines in the desert of Nevada before you spend the night in the gold mining town of Tonopah.
Day 8
Tonopah > Las Vegas
You cruise a further day along the highways of the Old West before reaching the glittering metropolis of Las Vegas in the evening, where your hotel awaits you.
Day 9
Las Vegas
The day in Las Vegas is at your own disposal – visit the Hard Rock Cafe and try your luck in one of the many casinos.
Day 10
Las Vegas > Barstow
A last day of Wild West is on the agenda, the motorcycle tour leads from Las Vegas via the silver mining town Calico and through the Mojave Desert to Barstow.
Day 11
Barstow > Los Angeles
Your motorcycle tour ends on the last leg from Barstow to Los Angeles, where you start your individual journey back home.

Self Drive Tour
What's included:
* Rental Motorcycle including insurance
* 10x Accommodation hotels/motels in Double Room
* Secured Payment Certificate (Sicherungsschein)
* KeaRider Tour Book (itineraries and tips)
Pricing in USD (US Dollar):
Rider with Own Motorcycle = USD 1185
Rider with Rental Motorcycle = USD 2795
Passenger = USD 1185
Single Room extra charge = USD 795
Twin Room extra charge = USD 125
Please feel free to tell us your individual date!
> Country-specific information
> Terms and Conditions for Tours
> More information on key rights under Directive (EU) 2015/2302

Guided Tour
What's included:
* Guided Motorcycle Tour by KeaRider Tour Guide
* Rental Motorcycle including insurance
* 10x Accommodation hotels/motels in Double Room
* Secured Payment Certificate (Sicherungsschein)
* KeaRider Tour Book (itineraries and tips)
Pricing in USD (US Dollar):
Rider with Own Motorcycle = USD 1645
Rider with Rental Motorcycle = USD 3625
Passenger = USD 1645
Single Room extra charge = USD 795
Twin Room extra charge = USD 125
Dates:
18.May.-28.May.2019
1.Jun.-11.Jun.2019
22.Jun.-2.Jul.2019
27.Jul.-6.Aug.2019
17.Aug.-27.Aug.2019
14.Sep.-24.Sep.2019
> Country-specific information
> Terms and Conditions for Tours
> More information on key rights under Directive (EU) 2015/2302


You prefer more comfort and services > Reuthers Motorcycle Tours

New Zealand Paradise | New Zealand Highlights | Australia Best Of | Australia Down Under | Route 66 Dream | Route 66 Kicks | USA Best Of West | USA Highway 1 | USA Wild West | USA National Parks | USA Pony Express | Florida Sunshine | Florida History | Canada Rockies | South Africa Wild Garden | Europe Alps & Lakes | Andalucia | Baltic States | Bella Italia | Ireland | Scotland | Tuscany
MOTORCYCLE ACCESSORIES | TRAVEL INSURANCE | SITEMAP | IMPRINT | DATA PRIVACY POLICY