Europe Ireland Motorcycle Tour
Discover with us, the Emerald Isle on this 7 day KeaRider motorcycle tour of Ireland that will take you on around the whole island. Your road trip begins in the Northern Ireland capital of Belfast and leads you past beautiful country roads with ancient castles and abbeys over to the west to Donegal. Visit Dunluce Castle, Kylemore Abbey and the famous Cliffs of Moher, then the world famous Ring of Kerry awaits you, a roundtrip through the picturesque peninsula of Kerry with its rugged mountains and impressive cliffs. Through the seaport of Cork and the Hill of Tara, you will finally reach Belfast, where your motorcycle tour through Ireland ends with a freshly drafted Guinness and a glass of Irish whiskey.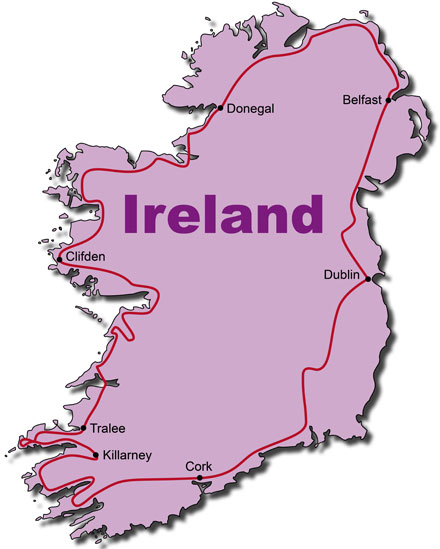 Route:
Belfast > Donegal > Clifden > Tralee > Killarney > Cork > Dublin > Belfast

Day 1
Belfast > Donegal
After an individual journey, tour participants meet in Belfast, you will drive past the famous old castles of Carrickfergus and Dunluce to Donegal.
Day 2
Donegal > Clifden
Today takes you from the Ben Bulbin Table Mountain to the Abbey of Kylemore and next to the beautiful Connemara National Park. Accommodation is in Clifden.
Day 3
Clifden > Tralee
Along the Irish west coast, cruise through the lush green hills and visit the Dolmen and the famous Cliffs of Moher. Accommodation is in Tralee.
Day 4
Tralee > Killarney
The next stage takes you further south over the Connor Pass and the lovely Irish town of Dingle to Killarney where you will spend the night.
Day 5
Killarney > Cork
Today you will experience one of the most beautiful parts of Ireland a round trip on the Ring of Kerry. You will cruise on to the Ring of Beara and over the Healy Pass to the southern Irish port of Cork.
Day 6
Cork > Dublin
In the Heritage Center of Cork you can find information on the numerous Irish immigrants, who traveled from here to the new world before you continue your trip. Via Waterford and Kilkenny Castle you will reach the lively capital Dublin in the evening.
Day 7
Dublin > Belfast
The last day of your motorcycle tour leads you back north to the legendary Hill of Tara the seat of the old Irish Kings before you reach Belfast or start your individual journey back home.

Self Drive Tour
What's included:
* Rental Motorcycle including insurance
* 6x Accommodation hotels/B&B in Double Room
* Secured Payment Certificate (Sicherungsschein)
* KeaRider Tour Book (itineraries and tips)
Pricing in GBP (British Pounds):
Rider with Own Motorcycle = GBP 885
Rider with Rental Motorcycle = GBP 1855
Passenger = GBP 885
Single Room extra charge = GBP 485
Twin Room extra charge = GBP 75
Please feel free to tell us your individual date!
> Country-specific information
> Terms and Conditions for Tours
> More information on key rights under Directive (EU) 2015/2302

Guided Tour
What's included:
* Guided Motorcycle Tour by KeaRider Tour Guide
* Rental Motorcycle including insurance
* 6x Accommodation hotels/B&B in Double Room
* Secured Payment Certificate (Sicherungsschein)
* KeaRider Tour Book (itineraries and tips)
Pricing in GBP (British Pounds):
Rider with Own Motorcycle = GBP 1095
Rider with Rental Motorcycle = GBP 2415
Passenger = GBP 1095
Single Room extra charge = GBP 485
Twin Room extra charge = GBP 75
Dates:
25.May.-31.May.2019
22.Jun.-28.Jun.2019
20.Jul.-26.Jul.2019
14.Sep.-20.Sep.2019
> Country-specific information
> Terms and Conditions for Tours
> More information on key rights under Directive (EU) 2015/2302


You prefer more comfort and services > Reuthers Motorcycle Tours

New Zealand Paradise | New Zealand Highlights | Australia Best Of | Australia Down Under | Route 66 Dream | Route 66 Kicks | USA Best Of West | USA Highway 1 | USA Wild West | USA National Parks | USA Pony Express | Florida Sunshine | Florida History | Canada Rockies | South Africa Wild Garden | Europe Alps & Lakes | Andalucia | Baltic States | Bella Italia | Ireland | Scotland | Tuscany
MOTORCYCLE ACCESSORIES | TRAVEL INSURANCE | SITEMAP | IMPRINT | DATA PRIVACY POLICY