Europe Scotland Motorcycle Tour
Once in your life feel like a Highlander! With our 7 day motorcycle tour through Scotland, enjoy the exciting mountain world of the rugged Scottish Highlands and the magnificent nature in the North of the British Isles. After starting in the provincial capital of Edinburgh you will ride with your Harley-Davidson to Stirling Castle, where Mary Stuart became Queen of Scotland at the age of 9 months. Ben Nevis, the highest mountain in Britain awaits you in Fort William. When you visit Eilean Donan Castle, the castle might look familiar: the first part of the "Highlander" saga was filmed here. After a boatstour on Loch Ness a whisky tasting at the Glenfiddich Distillery at the Whisky Trail awaits you, before the motorcycle tour through Scotland ends in Edinburgh.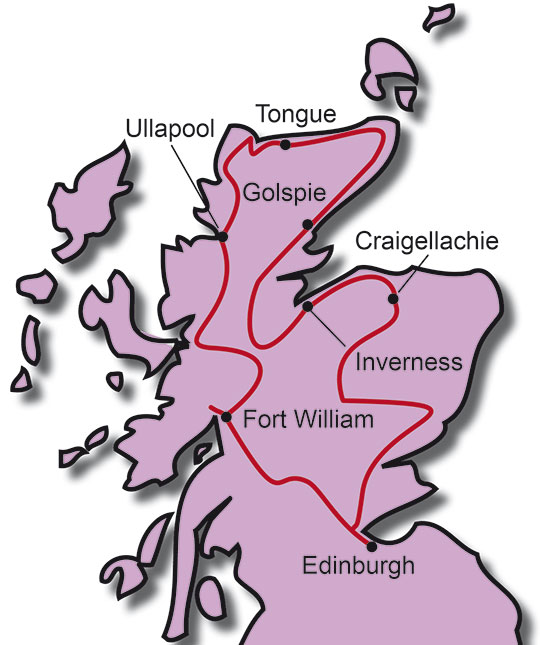 Route:
Edinburgh > Fort William > Ullapool > Tongue > Golspie > Inverness > Craigellachie > Edinburgh

Day 1
Edinburgh > Fort William
After an individual journey, tour participants meet in the Scottish capital Edinburgh, and go over Sterling Castle and Glencoe to Fort William, where you will stay the night.
Day 2
Fort Williams > Ullapool
Stop on the Road to the Isles at the Glenfinnan Monument. After that we visit the famous Elean Donan Castle, where the first part of "Highlander" was filmed. Overnight stay in Ullapool, where the Scottish wilderness begins.
Day 3
Ullapool > Tongue
Today we experience the Smoo Caves, the largest sea caves in Great Britain and spend the night in Tongue.
Day 4
Tongue > Golspie
Continuing on the "North Coast 500", we ride to the most northern point of the British mainland: Dunnet Head and take our lunchbreak in John O'Groates. Another stop is Dunrobin Castle with its picture-book garden - also the seat of the Sutherland Clan.
Day 5
Golspie > Inverness
The next morning we will see Culloden Moor, where the Highlanders fought their last great battle against the English and ride on to Urquhart Castle and Loch Ness.
Day 6
Inverness > Craigellachie
Even if you still miss Nessie, we will continue on the next morning from Inverness to Craigellachie, where you will visit one of the famous whisky distilleries.
Day 7
Craigellachie > Edinburgh
The last leg leads you back to Edinburgh. On your way we will visit Balmoral Castle, the summer residence of the Royal family as well as the Davidson Cottage, before you start your individual journey back home.

Self Drive Tour
What's included:
* Rental Motorcycle including insurance
* 6x Accommodation hotels/B&B in Double Room
* Secured Payment Certificate (Sicherungsschein)
* KeaRider Tour Book (itineraries and tips)
Pricing in GBP (British Pounds):
Rider with Own Motorcycle = GBP 885
Rider with Rental Motorcycle = GBP 1825
Passenger = GBP 885
Single Room extra charge = GBP 485
Twin Room extra charge = GBP 75
Please feel free to tell us your individual date!
> Country-specific information
> Terms and Conditions for Tours
> More information on key rights under Directive (EU) 2015/2302

Guided Tour
What's included:
* Guided Motorcycle Tour by KeaRider Tour Guide
* Rental Motorcycle including insurance
* 6x Accommodation hotels/B&B in Double Room
* Secured Payment Certificate (Sicherungsschein)
* KeaRider Tour Book (itineraries and tips)
Pricing in GBP (British Pounds):
Rider with Own Motorcycle = GBP 1065
Rider with Rental Motorcycle = GBP 2345
Passenger = GBP 1065
Single Room extra charge = GBP 485
Twin Room extra charge = GBP 75
Dates:
17.May.-23.May.2019
14.Jun.-20.Jun.2019
12.Jul.-18.Jul.2019
6.Sep.-12.Sep.2019
> Country-specific information
> Terms and Conditions for Tours
> More information on key rights under Directive (EU) 2015/2302


You prefer more comfort and services > Reuthers Motorcycle Tours

New Zealand Paradise | New Zealand Highlights | Australia Best Of | Australia Down Under | Route 66 Dream | Route 66 Kicks | USA Best Of West | USA Highway 1 | USA Wild West | USA National Parks | USA Pony Express | Florida Sunshine | Florida History | Canada Rockies | South Africa Wild Garden | Europe Alps & Lakes | Andalucia | Baltic States | Bella Italia | Ireland | Scotland | Tuscany
MOTORCYCLE ACCESSORIES | TRAVEL INSURANCE | SITEMAP | IMPRINT | DATA PRIVACY POLICY