Europe Bella Italia Motorcycle Tour
Experience one of the most beautiful vacation countries of the world with the KeaRider Bella Italia motorcycle tour through Italy. Your road trip begins in Florence and here, at the Piazza Michelangelo, we will view the famous cathedral and the Ponte Vecchio, the oldest bridge over the Arno. Afterwards we head the Adria coast and will arrive in Venice, the probably most beautiful city in this world where you will have the opportunity to ride in a gondola on the Canal Grande. The north of Italy is luring with Verona, the city of Romeo and Julia as well as Bellagio at the picturesque Comer Lake and Portofino on the Ligurian coast.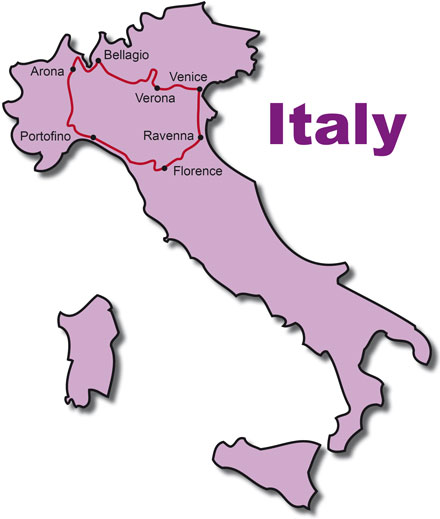 Route:
Florence > Ravenna > Venedig > Verona > Bellagio > Arona > Portofino > Florence

Day 1
Florence > Ravenna
After an individual journey, tour participants meet in the Renaissance City of Florence and head to Ravenna at the Italian Adria.
Day 2
Ravenna > Venice
Highlight of today is Venice, one of the world's most beautiful cities. Travelling by gondola and a gondolier on the Grand Canal is a must to do.
Day 3
Venice
Relax in Venice and enjoy cafe's and restaurants.
Day 4
Venice > Verona
Our destination is Verona with its old town and famous opera.
Day 5
Verona > Bellagio
You continue your motorbike tour along Lake Garda to Bellagio at Lake Como.
Day 6
Bellagio > Arona
After a short trip to Switzerland you will see the Lago Maggiore and by cruising in a southern direction you get the historical town Arona.
Day 7
Arona > Portofino
You are riding south via Genua to Portofino at the Italian Riviera. Your overnight stay is close to this small fishing village.
Day 8
Portofino > Florence
Again you travel through marvelous landscapes. After dropping off your motorcycle in Florence, you start your individual journey back home.

Self Drive Tour
What's included:
* Rental Motorcycle including insurance
* 7x Accommodation hotels/motels in Double Room
* Secured Payment Certificate (Sicherungsschein)
* KeaRider Tour Book (itineraries and tips)
Pricing in EUR (Euro):
Rider with Own Motorcycle = EUR 1135
Rider with Rental Motorcycle = EUR 2255
Passenger = EUR 1135
Single Room extra charge = EUR 815
Twin Room extra charge = EUR 95
Please feel free to tell us your individual date!
> Country-specific information
> Terms and Conditions for Tours
> More information on key rights under Directive (EU) 2015/2302

Guided Tour
What's included:
* Guided Motorcycle Tour by KeaRider Tour Guide
* Rental Motorcycle including insurance
* 7x Accommodation hotels/motels in Double Room
* Secured Payment Certificate (Sicherungsschein)
* KeaRider Tour Book (itineraries and tips)
Pricing in EUR (Euro):
Rider with Own Motorcycle = EUR 1515
Rider with Rental Motorcycle = EUR 2925
Passenger = EUR 1515
Single Room extra charge = EUR 815
Twin Room extra charge = EUR 95
Dates:
22.Apr.-29.Apr.2019
13.May.-20.May.2019
3.Jun.-10.Jun.2019
24.Jun.-1.Jul.2019
15.Jul.-22.Jul.2019
5.Aug.-12.Aug.2019
26.Aug.-2.Sep.2019
16.Sep.-23.Sep.2019
> Country-specific information
> Terms and Conditions for Tours
> More information on key rights under Directive (EU) 2015/2302


You prefer more comfort and services > Reuthers Motorcycle Tours

New Zealand Paradise | New Zealand Highlights | Australia Best Of | Australia Down Under | Route 66 Dream | Route 66 Kicks | USA Best Of West | USA Highway 1 | USA Wild West | USA National Parks | USA Pony Express | Florida Sunshine | Florida History | Canada Rockies | South Africa Wild Garden | Europe Alps & Lakes | Andalucia | Baltic States | Bella Italia | Ireland | Scotland | Tuscany
MOTORCYCLE ACCESSORIES | TRAVEL INSURANCE | SITEMAP | IMPRINT | DATA PRIVACY POLICY