KeaRider Motorcycle Tours
- Back To Basics!

You know the concept of the airlines: no-frills means that you pay only the bare necessities and travel from A to B much cheaper. In the plane you only pay for your seat - for additional services such as the food on board or taking along a suitcase causes extra payment.
The idea behind the KeaRider Motorcycle Tours works the same!
You pass up on all the inclusive service of a Premium Motorcycle Tour and can book the same journey cheaper, because we only will organize all necessary for you.
You pay for your fuel, visits to the sightseeings and other additional offers on your own - but only if you want to. You can selectively decide where you want to spend your money, and ignore what doesn't interest you. We tell you for every tour what is included in the price, such as the rental motorcycle (of course you can also bring your own one!), basic accommodation and necessary trips by ferry.
Make your own decision whether you would like to book a Guided Tour with a fixed date or a Self Drive Tour starting on your individuel date. If you are a group from 8 riders you can start your guided motorcycle tour on a freely selected date.
It's easy to extend your tour or plan in a larger trip. For example if you want to spend a few days after a motorcycle trip on the Route 66 in sunny California, or complete your New Zealand motorbike tour with a week on the beach of the South Seas.
The most beautiful motorcycle routes in the world for a small budget are now easily affordable thanks to the KeaRider Motorcycle Tours.
Keep It Simple!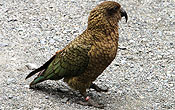 P.S.: Curious to find out where the name KeaRider comes from? The Kea is a bird of the parrot family, which is at home on the southern island of New Zealand, one of our most beautiful destinations. As free as a Kea flying through the air, you are just as free with our KeaRider tours on the road - in New Zealand and everywhere in the world.
Popular KeaRider Motorycle Tours:
New Zealand Paradise | New Zealand Highlights | Australia Best Of | Australia Down Under | Route 66 Dream | Route 66 Kicks | USA Best Of West | USA Highway 1 | USA Wild West | USA National Parks | USA Pony Express | Florida Sunshine | Florida History | Canada Rockies | South Africa Wild Garden | Europe Alps & Lakes | Andalucia | Baltic States | Bella Italia | Ireland | Scotland | Tuscany
MOTORCYCLE ACCESSORIES | TRAVEL INSURANCE | SITEMAP | IMPRINT | DATA PRIVACY POLICY