USA National Parks Motorcycle Tour
Nature lovers and adventurers can explore the National Parks of the USA in the southwest of the country on this 5 day KeaRider motorcycle tour. The motorcycle tour begins and ends in the glittering city of Las Vegas in Nevada. You will conquer the straight endless highways that cut through the magnificent backdrop of the American desert. Visit Zion National Park, Bryce Canyon and Monument Valley which is famous for its rock formations of bright red stone. Spend a night in the Navajo reservation and gain insight view of the life of the Native American. Through the Petrified Forest in Arizona and the Grand Canyon you head back to Las Vegas where you road trip through the National Parks in the United States end.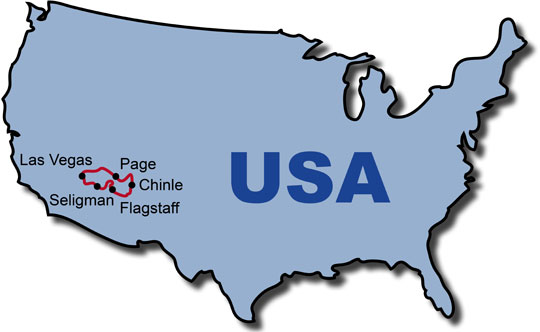 Route:
Las Vegas > Page > Chinle > Flagstaff > Seligman > Las Vegas

Day 1
Las Vegas > Page
After an individual journey, tour participants meet in Las Vegas and first visit the Zion National Park and, if there is enough time, the Bryce Canyon.
Day 2
Page > Chinle
Today you will find on the agenda, the famous Monument Valley, Canyon de Chelly with the Spider Rock a holy place for the Navajo and you will spend the night at their reservation in Chinle.
Day 3
Chinle > Flagstaff
Two more exciting nature wonders of the United States are the Painted Desert and the Petrified Forest National Park which is on the todays schedule before ending your motorcycle tour for the day in Flagstaff.
Day 4
Flagstaff > Seligman
The Grand Canyon is your main destination for today, on request you can experience the Grand Canyon from above by taking a helicopter flight. The journey continues to the Route 66 Visitor Center in Seligman where you will spend the night close by.
Day 5
Seligman > Las Vegas
On the last day of the motorcycle tour you will cruise via Kingman one last time on the highways of the Wild West, before you head back to Las Vegas, where you start your individual journey back home.

Self Drive Tour
What's included:
* Rental Motorcycle including insurance
* 4x Accommodation hotels/motels in Double Room
* Secured Payment Certificate (Sicherungsschein)
* KeaRider Tour Book (itineraries and tips)
Pricing in USD (US Dollar):
Rider with Own Motorcycle = USD 695
Rider with Rental Motorcycle = USD 1445
Passenger = USD 695
Single Room extra charge = USD 215
Twin Room extra charge = USD 45
Please feel free to tell us your individual date!
> Country-specific information
> Terms and Conditions for Tours
> More information on key rights under Directive (EU) 2015/2302

Guided Tour
What's included:
* Guided Motorcycle Tour by KeaRider Tour Guide
* Rental Motorcycle including insurance
* 4x Accommodation hotels/motels in Double Room
* Secured Payment Certificate (Sicherungsschein)
* KeaRider Tour Book (itineraries and tips)
Pricing in USD (US Dollar):
Rider with Own Motorcycle = USD 635
Rider with Rental Motorcycle = USD 1535
Passenger = USD 635
Single Room extra charge = USD 215
Twin Room extra charge = USD 45
Dates:
19.May.-23.May.2019
26.May.-30.May.2019
2.Jun.-6.Jun.2019
9.Jun.-13.Jun.2019
16.Jun.-20.Jun.2019
23.Jun.-27.Jun.2019
7.Jul.-11.Jul.2019
14.Jul.-18.Jul.2019
21.Jul.-25.Jul.2019
28.Jul.-1.Aug.2019
4.Aug.-8.Aug.2019
11.Aug.-15.Aug.2019
18.Aug.-22.Aug.2019
25.Aug.-29.Aug.2019
1.Sep.-5.Sep.2019
8.Sep.-12.Sep.2019
15.Sep.-19.Sep.2019
> Country-specific information
> Terms and Conditions for Tours
> More information on key rights under Directive (EU) 2015/2302


You prefer more comfort and services > Reuthers Motorcycle Tours

New Zealand Paradise | New Zealand Highlights | Australia Best Of | Australia Down Under | Route 66 Dream | Route 66 Kicks | USA Best Of West | USA Highway 1 | USA Wild West | USA National Parks | USA Pony Express | Florida Sunshine | Florida History | Canada Rockies | South Africa Wild Garden | Europe Alps & Lakes | Andalucia | Baltic States | Bella Italia | Ireland | Scotland | Tuscany
MOTORCYCLE ACCESSORIES | TRAVEL INSURANCE | SITEMAP | IMPRINT | DATA PRIVACY POLICY