Europe Tuscany Motorcycle Tour
Discover during this 6 day KeaRider motorcycle tour the most beautiful corners of this famous cultural landscape and enjoy the Tuscany scenery from the seat of your motorbike. Starting in Florence you will ride past the gentle hills towards the west and then with stopovers in Lucca and Montecatini Terme you will arrive at the seaside resort of Viareggio on the Liguria Sea. Other stations on this road trip are Pisa with the famous leaning tower and the pretty town of San Gimignano, which is called Manhattan of the Middle Ages due to its many high residential towers. After visiting Maremma, Siena and the wine region of Chianti, your motorcycle tour through Tuscany ends in Florence, where you are able to enjoy one last time delicious Tuscan specialties and wines before leaving.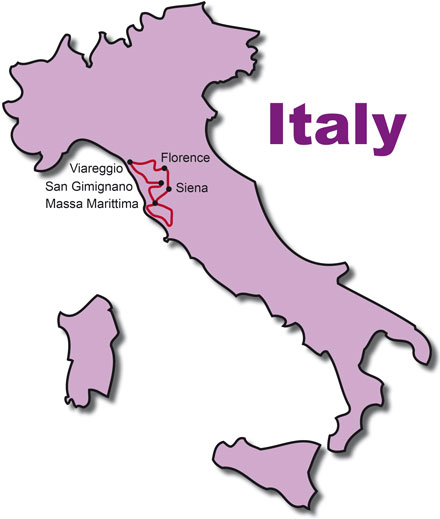 Route:
Florence > Viareggio > San Gimignano > Massa Marittima > Siena > Florence

Day 1
Florence > Viareggio
After an individual journey, tour participants meet in the Renaissance City of Florence and cruise through the Apuan Alps to Monte Albano and Lucca. Accommodation is at the seaside resort of Viareggio.
Day 2
Viareggio > San Gimignano
Today you will first pay a visit to Pisa, before you continue through the picturesque Tuscan countryside to San Gimignano, where you will stay the night.
Day 3
San Gimignano > Massa Marittima
At lunch you will continue your motorcycle tour and enjoy the beautiful hills in the west of Tuscany again before you reach the beautiful coastal town of Massa Marittima where you will spend two nights.
Day 4
Massa Marittima
Today, discover beautiful Maremma on the coast, where on a clear day you can see the island of Elba and find a real challenge on the winding roads in the Tuscan Highlands. In the evening you will return to Massa Marittima.
Day 5
Massa Marittima > Siena
Enjoy the famous and historic medieval city of Siena where you have an overnight stay.
Day 6
Siena > Florence
The last day takes you to the vineyards of Chianti and back to Florence, where you start your individual journey back home.

Self Drive Tour
What's included:
* Rental Motorcycle including insurance
* 5x Accommodation hotels/B&B in Double Room
* Secured Payment Certificate (Sicherungsschein)
* KeaRider Tour Book (itineraries and tips)
Pricing in EUR (Euro):
Rider with Own Motorcycle = EUR 755
Rider with Rental Motorcycle = EUR 1555
Passenger = EUR 755
Single Room extra charge = EUR 335
Twin Room extra charge = EUR 70
Please feel free to tell us your individual date!
> Country-specific information
> Terms and Conditions for Tours
> More information on key rights under Directive (EU) 2015/2302

Guided Tour
What's included:
* Guided Motorcycle Tour by KeaRider Tour Guide
* Rental Motorcycle including insurance
* 5x Accommodation hotels/B&B in Double Room
* Secured Payment Certificate (Sicherungsschein)
* KeaRider Tour Book (itineraries and tips)
Pricing in EUR (Euro):
Rider with Own Motorcycle = EUR 835
Rider with Rental Motorcycle = EUR 1885
Passenger = EUR 835
Single Room extra charge = EUR 335
Twin Room extra charge = EUR 70
Dates:
15.Apr.-20.Apr.2019
6.May.-11.May.2019
27.May.-1.Jun.2019
17.Jun.-22.Jun.2019
8.Jul.-13.Jul.2019
29.Jul.-3.Aug.2019
19.Aug.-24.Aug.2019
9.Sep.-14.Sep.2019
> Country-specific information
> Terms and Conditions for Tours
> More information on key rights under Directive (EU) 2015/2302


You prefer more comfort and services > Reuthers Motorcycle Tours

New Zealand Paradise | New Zealand Highlights | Australia Best Of | Australia Down Under | Route 66 Dream | Route 66 Kicks | USA Best Of West | USA Highway 1 | USA Wild West | USA National Parks | USA Pony Express | Florida Sunshine | Florida History | Canada Rockies | South Africa Wild Garden | Europe Alps & Lakes | Andalucia | Baltic States | Bella Italia | Ireland | Scotland | Tuscany
MOTORCYCLE ACCESSORIES | TRAVEL INSURANCE | SITEMAP | IMPRINT | DATA PRIVACY POLICY