USA Wild West Motorcycle Tour
Get to know the West of the United States in 7 days: The KeaRider motorcycle tour through California and Nevada brings you closer to the highlights of the Wild West. The first highlight of this road trip is the ride on Highway 1 along the picturesque Pacific Coast from Los Angeles to San Francisco. You'll cruise through the wine-growing areas in the Northern California, before you cross the border to Nevada. Here you will visit Lake Tahoe which is a popular vacation area and discover the romance of the old West in the gold mining town of Tonopah and the long since abandoned silver mining town of Calico. Of course, a visit to the great gambling capital of Las Vegas cannot be missed - maybe the wheels of fortune will turn your way and you can take a jackpot home?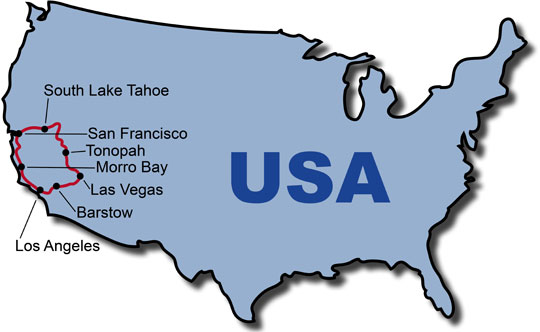 Route:
Los Angeles > Morro Bay > San Francisco > South Lake Tahoe > Tonopah > Las Vegas > Barstow > Los Angeles

Day 1
Los Angeles > Morro Bay
After an individual journey, tour participants meet in Los Angeles and immediately head towards the famous Highway 1, the beautiful coastal road that leads through Malibu, Santa Barbara and Solvang to Morro Bay.
Day 2
Morro Bay > San Francisco
Along the magnificent scenery of Big Sur, you will reach the metropolis of San Francisco, where you will spend the night.
Day 3
San Francisco > South Lake Tahoe
In the morning one of the highlights of the trip is the ride over the Golden Gate Bridge. The trip continues on to the gold mining town of Placerville via Sacramento through the Eldorado National Forest to Lake Tahoe.
Day 4
South Lake Tahoe > Tonopah
Before you continue it is possible to take a boat trip on Lake Tahoe in the morning. The "Wild West" with its desert landscapes begins right after Carson City. Accommodation is in Tonopah.
Day 5
Tonopah > Las Vegas
Via the historical town of Goldfield cruise across the desert of Nevada to the gambling capital Las Vegas. Here you can visit a show or try your luck at the casinos.
Day 6
Las Vegas > Barstow
Today, another day in "Wild West" begins with a visit to the silver mining town of Calico. You will reach the town of Barstow, on the Route 66 through the Mojave Desert.
Day 7
Barstow > Los Angeles
The last stage leads on Route 66 to Victorville and then back to Los Angeles, where you start your individual journey back home.

Self Drive Tour
What's included:
* Rental Motorcycle including insurance
* 6x Accommodation hotels/motels in Double Room
* Secured Payment Certificate (Sicherungsschein)
* KeaRider Tour Book (itineraries and tips)
Pricing in USD (US Dollar):
Rider with Own Motorcycle = USD 915
Rider with Rental Motorcycle = USD 1965
Passenger = USD 915
Single Room extra charge = USD 635
Twin Room extra charge = USD 75
Please feel free to tell us your individual date!
> Country-specific information
> Terms and Conditions for Tours
> More information on key rights under Directive (EU) 2015/2302

Guided Tour
What's included:
* Guided Motorcycle Tour by KeaRider Tour Guide
* Rental Motorcycle including insurance
* 6x Accommodation hotels/motels in Double Room
* Secured Payment Certificate (Sicherungsschein)
* KeaRider Tour Book (itineraries and tips)
Pricing in USD (US Dollar):
Rider with Own Motorcycle = USD 1045
Rider with Rental Motorcycle = USD 2295
Passenger = USD 1045
Single Room extra charge = USD 635
Twin Room extra charge = USD 75
Dates:
18.May.-24.May.2019
1.Jun.-7.Jun.2019
22.Jun.-28.Jun.2019
27.Jul.-2.Aug.2019
17.Aug.-23.Aug.2019
14.Sep.-20.Sep.2019
> Country-specific information
> Terms and Conditions for Tours
> More information on key rights under Directive (EU) 2015/2302


You prefer more comfort and services > Reuthers Motorcycle Tours

New Zealand Paradise | New Zealand Highlights | Australia Best Of | Australia Down Under | Route 66 Dream | Route 66 Kicks | USA Best Of West | USA Highway 1 | USA Wild West | USA National Parks | USA Pony Express | Florida Sunshine | Florida History | Canada Rockies | South Africa Wild Garden | Europe Alps & Lakes | Andalucia | Baltic States | Bella Italia | Ireland | Scotland | Tuscany
MOTORCYCLE ACCESSORIES | TRAVEL INSURANCE | SITEMAP | IMPRINT | DATA PRIVACY POLICY