Europe Andalucia Motorcycle Tour
On this 7 day KeaRider motorcycle tour through Andalusia, you can get to know Spain's southernmost province, and take a trip to Portugal. Al-Andalus was the land of the Moors that left behind their beautiful Islamic monuments such as the Alhambra of Granada, which you will visit. After stopovers in the lively capital of the province Seville and in Aracena, your motorcycle tour heads to the Portuguese border and leads you further on to the Cabo de San Vincente with it's lighthouse on the Atlantic coast, the south westernmost point of Portugal. Along the beautiful Algarve coast back to Andalusia, where your road trip comes to an end in Malaga.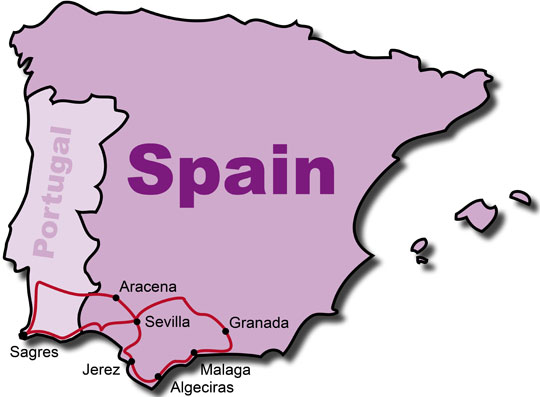 Route:
Malaga > Granada > Sevilla > Aracena > Sagres > Jerez > Algeciras > Malaga

Day 1
Malaga > Granada
After an individual journey, tour participants meet in Malaga on the Costa del Sol, where you will immediately head through the Sierra Nevada to Granada.
Day 2
Granada > Sevilla
The Alhambra, one of Andalusia's greatest highlights awaits you and also Seville, the lively capital of Andalusia, where you can experience the traditional Flamenco of the southern Spaniards live.
Day 3
Sevilla > Aracena
A relaxed day is planned for today, where you will visit the Castillo de Aracena and stay the night in the village.
Day 4
Aracena > Sagres
Well rested you head on to the west through the scenic countryside of Andalusia over the Portuguese border up to the Atlantic coast and the prominent lighthouse Cabo de Sao Vincente as well as to the Portuguese national monument, the fort Fortaleza de Sagres.
Day 5
Sagres > Jerez
Along the Algarve you ride past the province capital Faro toward the Costa de la Luz and visit Spains largest natural reserve the Coto de Donana. Night's lodging is in the capital of the sherry and the center of the Andalusia horse breeding, in Jerez de la Frontera.
Day 6
Jerez > Algeciras
After a sightseeing tour through the notable Sandeman Bodega and a live show "How the Andalusian Horses dance", we are heading to our historic hotel in Algeciras.
Day 7
Algeciras > Malaga
The last day leads you to the remote White Mountain village Casares - crowned by the castle and church. After that you will pass an entirely different world in Marbella, the home of the rich and the beautiful, before you arrive in Malaga in the afternoon and start your individual journey back home.

Self Drive Tour
What's included:
* Rental Motorcycle including insurance
* 6x Accommodation hotels/guesthouses in Double Room
* Secured Payment Certificate (Sicherungsschein)
* KeaRider Tour Book (itineraries and tips)
Pricing in EUR (Euro):
Rider with Own Motorcycle = EUR 875
Rider with Rental Motorcycle = EUR 1785
Passenger = EUR 875
Single Room extra charge = EUR 475
Twin Room extra charge = EUR 85
Please feel free to tell us your individual date!
> Country-specific information
> Terms and Conditions for Tours
> More information on key rights under Directive (EU) 2015/2302

Guided Tour
What's included:
* Guided Motorcycle Tour by KeaRider Tour Guide
* Rental Motorcycle including insurance
* 6x Accommodation hotels/guesthouses in Double Room
* Secured Payment Certificate (Sicherungsschein)
* KeaRider Tour Book (itineraries and tips)
Pricing in EUR (Euro):
Rider with Own Motorcycle = EUR 1055
Rider with Rental Motorcycle = EUR 2285
Passenger = EUR 1055
Single Room extra charge = EUR 475
Twin Room extra charge = EUR 85
Dates:
9.Mar.-15.Mar.2019
16.Mar.-22.Mar.2019
23.Mar.-29.Mar.2019
30.Mar.-5.Apr.2019
6.Apr.-12.Apr.2019
31.Aug.-6.Sep.2019
7.Sep.-13.Sep.2019
14.Sep.-20.Sep.2019
> Country-specific information
> Terms and Conditions for Tours
> More information on key rights under Directive (EU) 2015/2302


You prefer more comfort and services > Reuthers Motorcycle Tours

New Zealand Paradise | New Zealand Highlights | Australia Best Of | Australia Down Under | Route 66 Dream | Route 66 Kicks | USA Best Of West | USA Highway 1 | USA Wild West | USA National Parks | USA Pony Express | Florida Sunshine | Florida History | Canada Rockies | South Africa Wild Garden | Europe Alps & Lakes | Andalucia | Baltic States | Bella Italia | Ireland | Scotland | Tuscany
MOTORCYCLE ACCESSORIES | TRAVEL INSURANCE | SITEMAP | IMPRINT | DATA PRIVACY POLICY