New Zealand Highlights Motorcycle Tour
On this 14 day KeaRider motorcycle tour through New Zealand, you will visit the most beautiful highlights of the two islands and Stewart Island. Your motorcycle tour begins in the north in the metropolis of Auckland and takes you to the geysers of Rotorua and the capital of Wellington on the south island of New Zealand which is famous for its unique natural beauty. You will spend several days in the region around the southern alps where you will also visit the Franz Josef Glacier and the majestic Milford Sound. See penguins and dolphins in the wild and learn about New Zealand's national bird, the Kiwi. The more adventurous will have the opportunity to try out bungee jumping, skydiving, or a helicopter flight. On this road trip through New Zealand you won't miss out on any highlight of this country.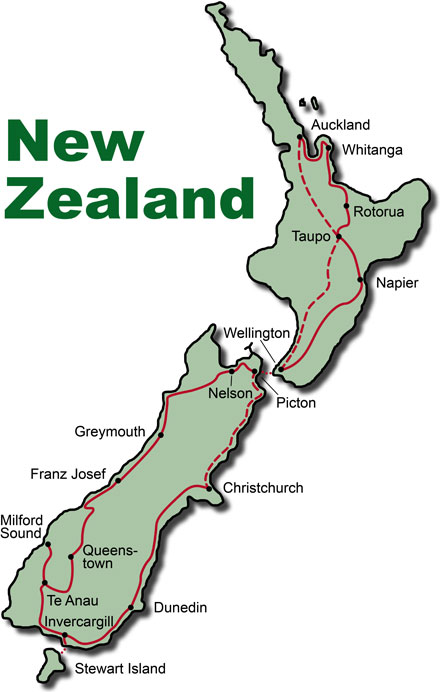 Route:
Auckland > Whitianga > Rotorua > Napier > Wellington > Nelson > Greymouth > Franz Josef > Queenstown > Te Anau > Invercargill > Dunedin > Christchurch

Day 1
Auckland > Whitianga
After an individual journey, tour participants meet in Auckland and head straight for the Pacific Coast Highway through the scenic Coromandel area and get used to cruising on the left side of the road. Accommodation is in Whitianga.
Day 2
Whitianga > Rotorua
Visit Cathedral Cove by the sea and the roaring geysers of Rotorua, before you spend the evening in a Maori village where you will find out more about the New Zealand natives.
Day 3
Rotorua > Napier
In Rotorua you will visit the Maori cultural center Te Puia before you continue to cruise past Lake Taupo and Mount Ruapehu to Napier, the beautiful Art Deco city by the sea with its many sights. You will spend the night at a hotel on the promenade.
Day 4
Napier > Wellington
Today take a relaxing cruise from Napier to Wellington and enjoy New Zealand.
Day 5
Wellington > Nelson
In Wellington you will have the opportunity to visit the National Museum Te Papa in the morning before you cross over with the ferry to the southern island. The motorcycle tour continues on to Nelson, which is greatly appreciated by bikers due to the many hours of sunshine.
Day 6
Nelson
Get to know other motorcyclists in Nelson or take an excursion to the Abel Tasman National Park - the day is at your free disposal.
Day 7
Nelson > Greymouth
Via the Buller Gorge Road you will ride to Cape Foulwind and the Pancake Rocks where sea water is sprayed up into the air through blowholes. Accommodation is in Greymouth.
Day 8
Greymouth > Franz Josef
Today you will spend the day at the snow-covered Franz Josef Glacier. You can get to know the glacier better by flying with a helicopter or taking a hike or a quad tour in the snow.
Day 9
Franz Josef > Queenstown
Your motorcycle tour leads over the Haas Pass to Lake Wanaka and via an exciting mountain road to Queenstown. With a steamboat you can take an optional trip on Lake Wakatipu to a sheep farm.
Day 10
Queenstown > Te Anau
Today you may sleep in, before you drive up to Te Anau at noon time.
Day 11
Te Anau
Te Anau is the starting point for sightseeing trips in the famous Milford Sound, a beautiful fjord landscape which you best experience on board a ship.
Day 12
Te Anau > Invercargill
You will continue to Invercargill with an option to visit the nature island Stewart Island in the far south of New Zealand. Here you can take a scooter tour and observe untouched nature i.e. rare bird species.
Day 13
Invercargill > Dunedin
Today you will have a close up view of Burt Monro's original motorcycle from the cult film "The World's Fastest Indian" with Anthony Hopkins. Afterwards you are heading through the Catlins on to Dunedin.
Day 14
Dunedin > Christchurch
Your motorcycle tour ends with a last ride to Christchurch, where you start your individual journey back home.
Optional: 3 days back to Auckland!

Self Drive Tour
What's included:
* Rental Motorcycle including insurance
* 13x Accommodation hotels/motels in Double Room
* Ferry Wellington-Picton
* Secured Payment Certificate (Sicherungsschein)
* KeaRider Tour Book (itineraries and tips)
Pricing in NZD (New Zealand Dollar):
Rider with Own Motorcycle = NZD 1475
Rider with Rental Motorcycle = NZD 5615
Passenger = NZD 1475
Single Room extra charge = NZD 1145
Twin Room extra charge = NZD 175
Please feel free to tell us your individual date!
> Country-specific information
> Terms and Conditions for Tours
> More information on key rights under Directive (EU) 2015/2302

Guided Tour
What's included:
* Guided Motorcycle Tour by KeaRider Tour Guide
* Rental Motorcycle including insurance
* 13x Accommodation hotels/motels in Double Room
* Ferry Wellington-Picton
* Secured Payment Certificate (Sicherungsschein)
* KeaRider Tour Book (itineraries and tips)
Pricing in NZD (New Zealand Dollar):
Rider with Own Motorcycle = NZD 2785
Rider with Rental Motorcycle = NZD 7085
Passenger = NZD 2785
Single Room extra charge = NZD 1145
Twin Room extra charge = NZD 175
Dates:
12.Jan.-25.Jan.2019
2.Feb.-15.Feb.2019
2.Mar.-15.Mar.2019
2.Nov.-15.Nov.2019
30.Nov.-13.Dec.2019
> Country-specific information
> Terms and Conditions for Tours
> More information on key rights under Directive (EU) 2015/2302


You prefer more comfort and services > Reuthers Motorcycle Tours

New Zealand Paradise | New Zealand Highlights | Australia Best Of | Australia Down Under | Route 66 Dream | Route 66 Kicks | USA Best Of West | USA Highway 1 | USA Wild West | USA National Parks | USA Pony Express | Florida Sunshine | Florida History | Canada Rockies | South Africa Wild Garden | Europe Alps & Lakes | Andalucia | Baltic States | Bella Italia | Ireland | Scotland | Tuscany
MOTORCYCLE ACCESSORIES | TRAVEL INSURANCE | SITEMAP | IMPRINT | DATA PRIVACY POLICY