USA Florida History Motorcycle Tour
This 7 day KeaRider motorcycle tour through Florida takes you to the most historic places in the Sunshine State. You will discover Saint Augustine, the oldest European settlement in Florida, will have a race horse farm visit in Ocala, the horse capital of the world, visit the former summer residence of the great inventor Thomas Edison, which is now a museum in Fort Myers, and stop at the Kennedy Space Center, where space history was written. A further highlight is a visit in the world's largest Harley-Davidson shop in Daytona Beach. Of course on this road trip stops at the most beautiful beaches, for example Sanibel Island are scheduled.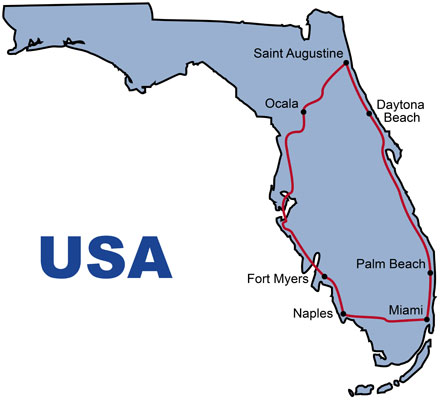 Route:
Miami > Naples > Fort Myers > Ocala > Saint Augustine > Daytona Beach > Palm Beach > Miami

Day 1
Miami > Naples
After an individual journey, tour participants meet in Miami, where you will hit the road the same day. First stop are the famous Everglades, where you can take a ride with an airboat, before you continue on to the Gulf Coast.
Day 2
Naples > Fort Myers
After spending the night in Naples, you will experience the picturesque seaside resorts of the Gulf Coast on the way to Sanibel Island and Fort Myers.
Day 3
Fort Myers > Ocala
Today you will cruise along further up the Gulf Coast and reach via Sarasota and Anna Maria Island the town of Weeki Wachee, where you can visit the famous Mermaid show. Accommodation is in Ocala.
Day 4
Ocala > Saint Augustine
In the morning you will visit one of the racehorse studs for which Ocala is best known before you drive through the Ocala forest, and ride past the Saint Johns River along to Saint Augustine, the oldest city in Florida. In the evening you have the possibility to visit a pirate show.
Day 5
Saint Augustine > Daytona Beach
After visiting the Castillo de San Marcos you will leave Saint Augustine and cruise south to Daytona Beach, where you will find Bruce Rossmeyer's Harley-Davidson shop and a hotel right on the beach.
Day 6
Daytona Beach > Palm Beach
A highlight for technology enthusiasts is the visit to the Kennedy Space Center on the following morning, before you continue on to Palm Beach.
Day 7
Palm Beach > Miami
The last stage leads via Fort Lauderdale and one of Florida's largest shopping malls back to Miami, where you start your individual journey back home.

Self Drive Tour
What's included:
* Rental Motorcycle including insurance
* 6x Accommodation hotels/motels in Double Room
* Secured Payment Certificate (Sicherungsschein)
* KeaRider Tour Book (itineraries and tips)
Pricing in USD (US Dollar):
Rider with Own Motorcycle = USD 865
Rider with Rental Motorcycle = USD 1915
Passenger = USD 865
Single Room extra charge = USD 455
Twin Room extra charge = USD 85
Please feel free to tell us your individual date!
> Country-specific information
> Terms and Conditions for Tours
> More information on key rights under Directive (EU) 2015/2302

Guided Tour
What's included:
* Guided Motorcycle Tour by KeaRider Tour Guide
* Rental Motorcycle including insurance
* 6x Accommodation hotels/motels in Double Room
* Secured Payment Certificate (Sicherungsschein)
* KeaRider Tour Book (itineraries and tips)
Pricing in USD (US Dollar):
Rider with Own Motorcycle = USD 965
Rider with Rental Motorcycle = USD 2225
Passenger = USD 965
Single Room extra charge = USD 405
Twin Room extra charge = USD 75
Dates:
5.Jan.-11.Jan.2019
19.Jan.-25.Jan.2019
2.Feb.-8.Feb.2019
16.Feb.-22.Feb.2019
2.Nov.-8.Nov.2019
16.Nov.-22.Nov.2019
30.Nov.-6.Dec.2019
> Country-specific information
> Terms and Conditions for Tours
> More information on key rights under Directive (EU) 2015/2302


You prefer more comfort and services > Reuthers Motorcycle Tours

New Zealand Paradise | New Zealand Highlights | Australia Best Of | Australia Down Under | Route 66 Dream | Route 66 Kicks | USA Best Of West | USA Highway 1 | USA Wild West | USA National Parks | USA Pony Express | Florida Sunshine | Florida History | Canada Rockies | South Africa Wild Garden | Europe Alps & Lakes | Andalucia | Baltic States | Bella Italia | Ireland | Scotland | Tuscany
MOTORCYCLE ACCESSORIES | TRAVEL INSURANCE | SITEMAP | IMPRINT | DATA PRIVACY POLICY